From The Editors
The Westminster Detective Library is a work in progress. We welcome and solicit comments and would particularly appreciate additional bibliographical entries and texts to add to the library's collection.
Our editorial policy has been to modernize spelling and punctuation, but not to alter grammar in the stories. However, for clear typographical errors (e.g. "shool" for "school") and illegible text we have inserted corrections in square brackets.
LeRoy Panek
Mary M. Bendel-Simso
Send us a letter at
The Department of English
McDaniel College
2 College Hill
Westminster, MD 21157
Call us at
410-848-7000
Fax us at
410-386-4601
e-mail us at
lpanek@mcdaniel.edu
mbendels@mcdaniel.edu
Special Thanks
Undergraduate Research Assistants
Samantha Stair Azat
Cassandra Berube
Mable Buchanan
Micaela Champion
Elizabeth Ennis
Weston Funk
Sarah Knaggs
Tusannah Krauss
Marya Kuratova
Sara Krome French
Brenna Gutshall
Becca Halaney
Alex Maragos
Anne Mathews
Shannon McClellan
Grace Miller
Megan Mitchell
Camden Ostrander
Joseph M. Ottomano
Laurel Pogue
Emily Renfro
Thea Robertson
Emily Roderick
Margaret Self
Daniel Stefanelli
Briana Sutton
Tyler Van Dyke
Lelia Vetter
Jenna Warren
Danielle Wendt
Jackie White
Cara Woolston
Nathan Wright
Web Design & Development
Austin Royal
Kenny Huether
Professors Panek and Bendel-Simso are the editors of Early American Detective Stories: An Anthology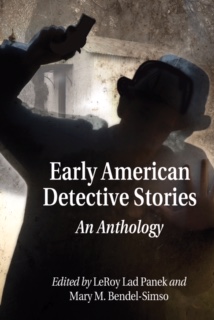 McFarland, 2008.
In The Essential Elements of the Detective Story, 1820–1891, they consider the development of the detective story based on a critical examination of the stories on this site.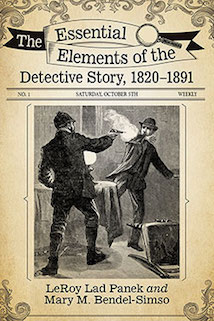 McFarland, 2017.
————
This site is hosted by



————

The editors are grateful to the following for their financial support for Student-Faculty Summer Research:
McDaniel College Provost's Summer Research Fund
The Mellon Foundation
The Fund for the Humanities
The Salomon Undergraduate Summer Research Fund and
The Nancy C. Gaston Student-Faculty Research Fund